By Victoria T. Davis
The more than 83,000 residents of Bloomington — the city that's home to Indiana University and is also known as B-town by locals — enjoy a diverse and rich culture due to its tight-knit communities and thriving arts scene.
VisitBloomington.com says, "Bloomington and all of Monroe County, Indiana, are proud to welcome and embrace people and visitors of all persuasions, backgrounds, orientations and identities. Our diversity and openness are the very grain of who we are."
The city is also home to a large and active population of same-sex couples and is arguably one of the most progressive cities in the Midwest, both socially and politically. The gay, lesbian, bisexual, transgender and queer (LGBTQ)-Friendly Campus Pride Index awarded Indiana University a five-star rating for creating a LGBTQ-friendly campus climate. In addition, the 2010 U.S. Census Bureau found about 18 percent of Bloomington residents are minorities.
The City of Bloomington Office of Diversity and Inclusion works to protect the rights of all its residents through commissions staffed by local citizens to make city programs, facilities and businesses accessible to everyone.
Following are some popular attractions, accommodations and dining options for those looking to say, "Hello, Bloomington!"
ATTRACTIONS
B-Line Trail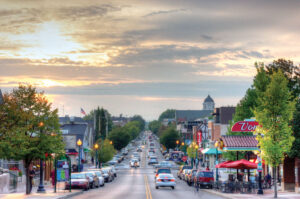 Get outside and walk, run or bike 3.1 miles through downtown Bloomington on the B-Line Trail, which features drinking fountains, park benches, limestone accents, trees and energy-efficient LED fixtures. Thanks to IU Health Bloomington, the trail also has two fitness stations just south of First Street. Users can also enjoy a handful of public art pieces on the way to their destination.
For more information, visit Bloomington.in.gov.
Bloomington Community Farmers' Market
Purchase fresh items every Saturday, April through November, at the Bloomington Community Farmers' Market. A program of the City of Bloomington Parks and Recreation Department, the farmers market sells locally grown produce, annual and perennial plants and a variety of prepared foods all grown and prepared by Hoosiers from around the area. Those who are unable to attend Saturday's festivities will appreciate the weekday version of the Bloomington Community Farmers' Market held from 4–7 p.m. on Tuesdays, June through September.
For more information, visit Bloomington.in.gov.
Indiana University Art Museum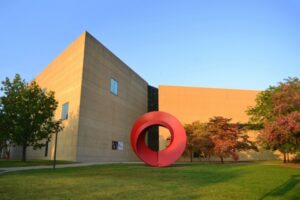 While visiting the campus of Indiana University, the Art Museum may be a place to add to your to-do list. The original museum began as a small university teaching collection in 1941 but today holds internationally acclaimed art, ranging from ancient gold jewelry and African masks, to paintings by Claude Monet and Pablo Picasso. More than 45,000 objects represent several cultures, and there is no charge to visit the museum. For more information, visit Artmuseum.indiana.edu.
IU Summer Festival of the Arts
Each year the IU Summer Festival of the Arts combines music, cinema, art and theater for a summer experience. Events are held at venues across campus, including the IU Art Museum, IU Cinema, Grunwald Gallery of Art, Jacobs School of Music, Kinsey Institute Gallery, Lilly Library, Mathers Museum of World Cultures, Wylie House Museum and Lee Norvelle Theatre & Drama Center. The festival began in 2011 as a way to showcase the vibrant cultural offerings at IU that help make Bloomington a popular arts destination throughout the year. It also offers an opportunity for those attending the various summer camps, conferences and workshops on the IU campus to attend arts events. Arts events continue year-round.
For a calendar, visit Artsfest.indiana.edu.
Oliver Winery & Vineyards
Visit Indiana's largest and oldest winery. Oliver Winery & Vineyards is where visitors can enjoy daily wine tasting and weekend tours of the production facility and cellar. Located along State Road 37, the winery started in the 1960s as a hobby in the basement of Indiana University law professor William Oliver. Today, the company distributes to 18 states and ships world-class wine across the country. In addition to the live music and house-made BBQ in the summertime, Oliver has carryout wine sales on Sundays noon–6 p.m.
For more information, visit OliverWinery.com.
PRIDE LGBTQ Film Festival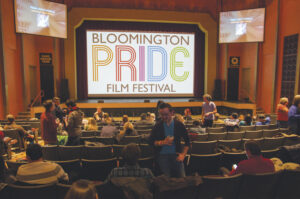 PRIDE is a film festival exploring a wide variety of issues involving the LGBTQ communities. PRIDE programs a variety of live performances, lectures and public participation events and films that express a wide range of viewpoints and feature many different personality types and situations, advocating community-wide attitudes of awareness, acceptance and appreciation of diversity. The goal of the festival is to educate and strengthen the local community and celebrate artistic talent and achievement. In 2015, PRIDE celebrated its 12th year and the next film fest will take place January 28–30, 2016.
For more information, visit Bloomingtonpride.org.
ACCOMMODATIONS
Grant Street Inn
The owners of Grant Street Inn, a structure that dates back to the 1890s, invites guests to make themselves at home during their stay at this historic bed and breakfast, which offers 40 distinct rooms, each decorated with a personality all its own. From chic contemporary to cottage style and Victorian, visitors are sure to discover a room to suit their taste. Some rooms have romantic fireplaces and bathtub Jacuzzis for romantic getaways, while others have beautiful porches for quiet, relaxing evenings. All rooms have a private bath, 32-inch flat-screen TV, iron and ironing board, and high-speed wireless Internet. A variety of special packages are also available.
310 N. Grant St., Bloomington, IN 47408 / (812) 334-2353 / Grantsinn.com.
Isabel's Bed and Breakfast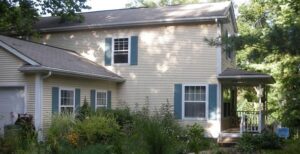 For those on the search for a more secluded and private experience, Isabel's Bed and Breakfast, a contemporary house with an abundance of trees, offers two guest bedrooms with queen size beds, private bathrooms, a desk and chair. Each guest room offers fine quality linens, towels, down comforters and foam and feather pillows. Wi-Fi is available throughout the house. Other amenities include homemade breakfast and an outdoor deck and patio with gas grill.
420 N. Oak St., Bloomington, IN 47404 / (812) 345-9764 / Isabelsbedandbreakfast.com.
Scholars Inn
For the past 15 years, Scholars Inn has served Bloomington residents and visitors with everything from fine seafood to scones, whether they're looking for a great place for a cup of coffee or a luxurious place for a weekend retreat. The Scholars Inn Bed & Breakfast is a recently restored 125-year-old mansion just five blocks from downtown Bloomington. All six rooms include private baths, telephones and a TV with a complimentary video library. Some rooms feature a fireplace, Jacuzzi tub, fountain or private patio. The Scholars Inn Gourmet Café & Wine Bar, widely known for its hand-cut steaks, is located next door.
717 N. College Ave., Bloomington, IN 47404 / (812) 332-1892 / Scholarsinn.com.
DINING
Darn Good Soup Nels Boerner, owner and supreme chef at Darn Good Soup, serves up 10 to 12 fresh soups daily for lunch and dinner. Soup rotations may include Black Bean Showdown, Cheesy Tomatillo, Colonel's Curry Cauliflower, Potato Pancetta, Smashed Pumpkin, Seafood Chowder, Zucchini Pesto and many other traditional favorites. All soups, including vegetarian and vegan options, are served with bread.
107 N. College Ave., Bloomington, IN 47404 / (812) 335-3533 / Darngoodsoup.com.
FARM Restaurant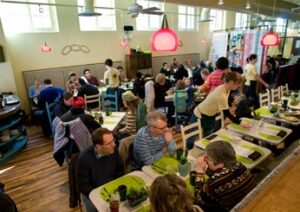 FARM, an independent Bloomington restaurant, strives to create crowd-pleasing recipes for every budget and taste using local foods with global flavors. The eatery prides itself on using fresh local ingredients to create exciting, fresh dishes and cocktails. Visit during the breakfast, brunch, lunch or dinner hours to enjoy signature meals such as the Hoosier Daddy made with classic biscuits, kielbasa, local sausage gravy and sweet peppers; The Lugar Burger, a Food Network favorite; or the FarmFamous garlic fries.
108 E. Kirkwood Ave., Bloomington, IN 47408 / (812) 323-0002 / Farm-bloomington.com.
Mother Bear's Pizza
Said to serve the "best pizza in town" by Trip Advisor visitors, Mother Bear's Pizza has become students' and locals' home away from home since 1973. Pizzas are made to order and are topped with an array of fresh ingredients. If pizza isn't on the agenda, visitors can enjoy crisp salads, hot sub sandwiches, chicken wings, quiche and pasta dinners. Beer, wine and desserts are also available.
1428 E. Third St., Bloomington, IN 47401 / (812) 332-4495 / Motherbearspizza.com.
Rainbow Bakery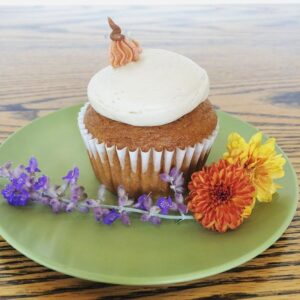 As Bloomington's only all-vegan bakery, Rainbow Bakery offers items such as oatmeal cream pies, peanut butter cookies, fresh granola, carrot cupcakes, PB cookie sandwiches with chocolate or strawberry filling, pumpkin ginger muffins, banana chip muffins, a variety of donuts and more. Special cakes and cupcake orders can be placed in a variety of flavors such as Salted Carmel, Lavender, Green Tea, Pink Lemonade, Pumpkin and others. Owners Lisa Dorazewski and Matt Tobey want customers to know, "Cakes that make heavy use of egg whites are not possible for us, such as angel food cake or standard 'white' cake."
201 S. Rogers St., Bloomington, IN 47404 / 812-822-3741 / Rainbowbakery.net